One of the main reasons that many of our clients come to us is because they are tired of dealing with tenants.  They are tired of phone calls at all hours of the night and the constant pestering from tenants who just don't know when to stop.
And while having the pros at Real Property Management Miami as a buffer will stop the phone calls and streamline the process that can only help so much if you have bad tenants.  Bad tenants will not take care of your property and that neglect will lead to further problems that will inevitably lead to more repairs and of course more money out of your pocket.  So the real key is to attract the best tenants possible that will actually take pride in their "home" so that you will have fewer repairs over the long run and be able to charge higher rents!
But how do you find these amazing souls?  They are more common than you think but they all want one thing…to move in to a home that is well cared for and nicely appointed so that they can feel that pride of a nice clean and beautiful home.
Home is definitely where the heart is and it doesn't matter if you own the home or rent most people will take some pride in where they eat, sleep and raise their children.  So the key to attracting good tenants is to maximize that pride by making High Value Upgrades so that the tenant feels a passion for their home.
So what is a High Value Upgrade?  Simply put, it is an inexpensive upgrade that provides the most value for the investment by improving the living experience for your tenants.  It is the exact opposite of an Over-Improvement (which we will discuss in a later post).  For a High Value Upgrade you should spend less than $1,000 but the change to the property will be significant.
Examples of High Value Upgrades…
Exterior Lighting: This is by far one of the best because in addition to making the property more beautiful at night it also adds security.  If your tenants feel safe they will be happy which will make them they will pay more and take better care of your property.  Consider motion activated flood lights for the driveway so that the tenants energy expense remains low but safety remains high.
Tile Floors: Most tenants prefer tile floors because they are easier to clean and don't trap dust which causes allergies.  You can get very sturdy inexpensive tile that will look great.  And to top it off tile withstands wear and tear and lasts much longer than carpet.  Tile also brightens a home which gives it that "Wow!" factor when your perfect tenant walks in.
Crown Molding: Nothing makes a house feel like a home more than connecting your walls to your ceiling.  It connects the entire room and makes it feel expensive but with today's foam technology you can have it installed for very little.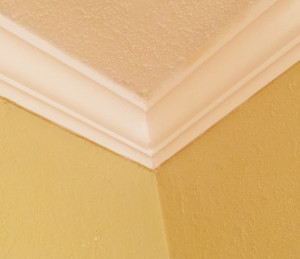 LED Lights: This is a very small investment that is a huge draw for renters because not only do they save money on electricity but they know that you are getting them the very best there is (at a very nominal cost to you).  Plus they can brag to their guests about them.  They best part about these is that if they do go out it is the tenants responsibility to replace lights.  Many tenants will replace them with LED's because they are already accustomed to them.  And if they don't you just replace them with the good bulbs once they move out to attract the next awesome tenant.
Interior Door Handles: Again these are so inexpensive to replace and they completely change the look and feel of a home.  Instead of the old knobs opt for the new handle style in a silver, brass or black, depending on your color scheme.
Fresh Interior Paint: This last one can get a little more pricey but if you offer to have the walls painted the color that the tenant loves you can keep a great tenant and avoid objections when you want to increase your rent.
These are just a few ideas to maximize your property's "rentability" and attract the best tenants that will want to move in immediately and make your house their home.
Of course you should not do all of them at once but doing one a year will be an investment that will pay off big in the long run!
Happy Investing!
– Real Property Management Miami
We are pledged to the letter and spirit of U.S. policy for the achievement of equal housing opportunity throughout the Nation. See Equal Housing Opportunity Statement for more information.